The highways of the north will take you through stunning scenery and the historic routes of traders, travelers, prospectors, and early transportation workers. While driving on northern highways, you'll witness vast expanses of wilderness, pullouts with breathtaking vistas, and unique communities with colourful inhabitants. Driving in the north is always an adventure. Keep in mind that most northern highways are out of cell phone range, and prepare yourself for long distances in between services and unpredictable weather. Drive safely, come prepared, but most of all, have fun!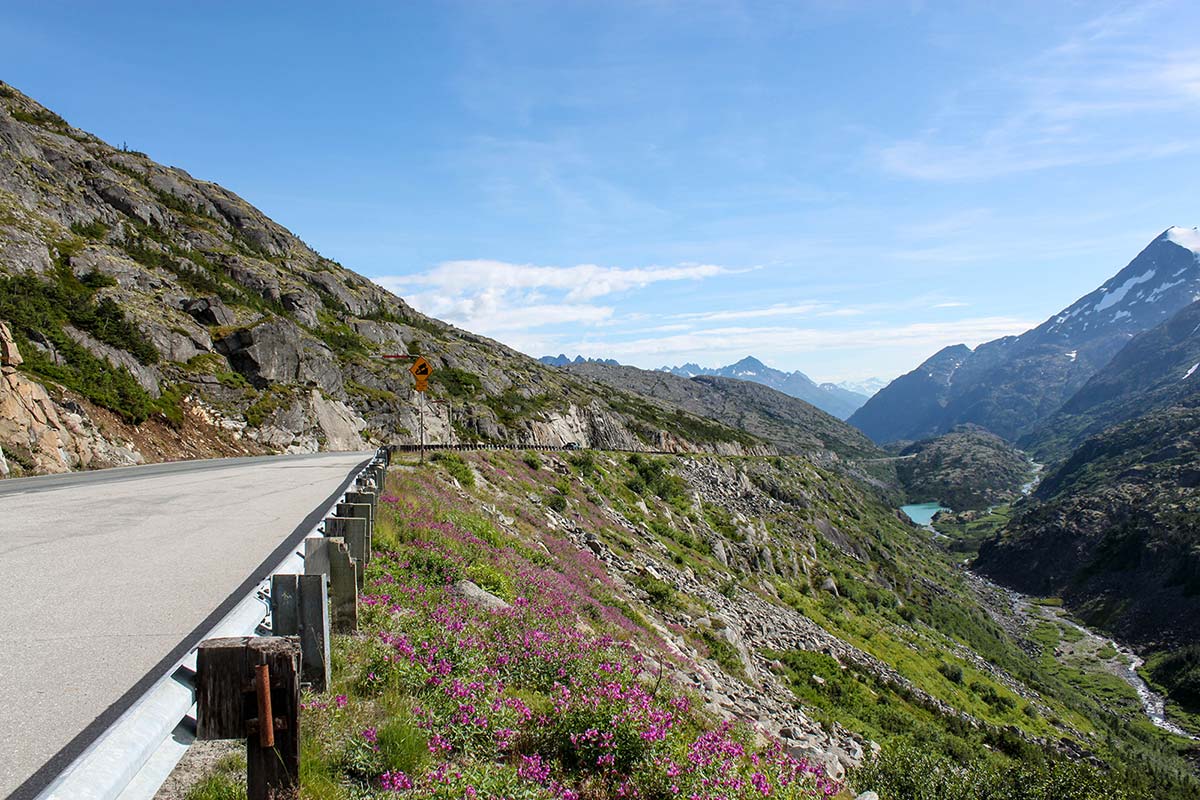 Yukon Highways:
Maintenance
The Department of Highways and Public Works is responsible for the construction, maintenance, and clearning of all public highways in the Yukon – a total of 4,850 kilometers (3,014 miles). Of that, 248 km have a paved surface, 1,987 km have a Bituminous Surface Treatment (BST), and 2,617 km have a gravel surface. By any measure, our highways and public roads are a superb reflection of superlatives of this place we call Yukon – a place bigger than half a dozen eastern provinces or states, a place defined by weather extremes, a place whose rivers make others look like creeks, a place with more caribou than people. That  such huge highway infrastructure development and maintenance challenges can be met with so few resources is a testament to the men and women who devote their careers to building, maintaining, monitoring, and clearing the public roads and highways of the Yukon. Every year, these same roads and highways draw thousands of travellers from around the world to experience what the Yukon has to offer: a safe, secure driving experience in an authentic unspoiled wilderness setting at the edge of the known world. What's more, Yukoners and visitors alike have come to expect that there are few restrictions on their travels, that the roads are clear, bridges are maintained, and potholes smoothed over. Yukon highways enable Yukoners and visitors alike to go there and back again safely and securely, whenever they want and wherever it is they are going. When travelling throughout the Yukon this year, the department of Highways and Public Works reminds everyone that while you take in the spectacular views and vast wilderness, also be mindful of construction zones and adhere to all posted speed limits and to watch for wildlife on the highway or in the right-of-way.
Road Safety
Travellers should remember that they are in a wilderness area, and service stations aren't found at every turn in the road. Bearing this in mind, here are some tips for a safe, comfortable journey:
Don't get too close to the vehicle in front. There may be flying gravel and dust to obscure vision
When forward visibility is limited by a bend, bridge, or hill, PLEASE SLOW DOWN. Some vehicles may cross the centre line to straighten out a curve, or there may be wildlife on the road.
Be sure to carry backup equipment in good condition (spare tire, fan belt, etc.)
For information on highway conditions call 511, check in with visitor information centres, any RCMP detachment and Yukon Community and Transportation Services offices in Whitehorse. Radio stations also give highway reports
Distances in Canada are expressed in kilometres
For the most part, there are long stretches of excellent road surface, and there's no need to worry. Just take obvious precautions, keep up to date on road conditions, and use common sense.
Drive with headlights on low beam
The use of seat belts is mandatory in Canada, so buckle up.
Drivers are not allowed to use hand-held electronic devices having the capability of talking, texting or emailing, while driving.
In particular, be prepared for:
Grading in the warm season, snow plowing in the winter
Major reconstruction during spring, summer, & early fall.
Potholes or surface breakup most prevalent during late spring and early summer, and is caused by continual freezing and thawing of moisture trapped in the roadbed. PLEASE SLOW DOWN on these sections.
Occasional washouts. These may occur in late spring or early summer as a result of heavy rain or rapid melting of the alpine snowpack after a spell of warm weather
Surveyors and flag persons working on or adjacent to the road. Please obey all signs.