The South Klondike Highway's spectacular scenery and rich Gold Rush history make it a memorable drive for any visitor to Alaska or the Yukon.
The road parallels both the route used by 1898 gold-seekers to get to the Klondike and the old White Pass & Yukon Route railway route. You'll see remnants of old mining structures on mountainsides left behind by mining exploits of decades past. The White Pass mountain summit area coming from Skagway to the Canada - U.S. border more closely resembles a moonscape than any earthly landscape, with twisted trees, small lakes, and barren foliage that create truly unique scenery. The South Klondike Highway takes you through the Southern Lakes region of the Yukon, where you can access the communities of Carcross and Tagish.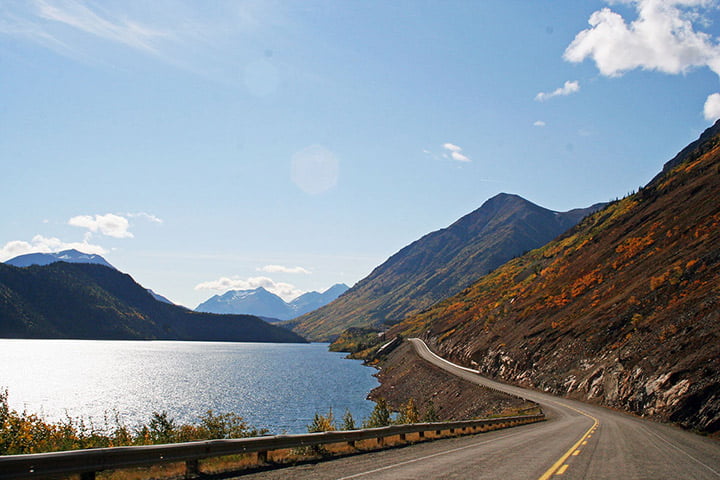 South Klondike Highway Points of Interest 
BC / Yukon border
km 80 (mi 50)
There is a pullout at the BC / Yukon border, on the east side of the highway. Search the slopes of Montana Mountain to the northwest and Mount Racine to the southwest for signs of Mountain Goats and Dall Sheep that frequent these areas.
Bennett and Nares Lakes
km 106 (mi 66)
Nares Lake is on the east side of the Klondike Highway and Bennett Lake is on the west side. Being one of the few areas of open water in the winter, it attracts many species.
Carcross Desert viewpoint
km 108 (mi 67)
Affectionately known as the world's smallest desert, the Carcross Desert is just south of Carcross. The wind blows sand dunes from Bennett Lake, forming sand dunes and making them advance across the landscape, sometimes burying trees along the way.
Emerald Lake
km 118 (mi 74)
This pullout provides an excellent view of Emerald Lake's famous turquoise waters. Interpretive panels describe the effect of climate on wildlife and explain the lake's mysterious colour, a result of light reflecting off layers of marl, or CaCO3 (powdered limestone)
Kookatsoon Lake Recreation Site
km 154 (mi 96)
A pleasant family swimming spot in summer, equipped with a playground and picnic sites. The shallow waters freeze to the bottom in winter, so this lake cannot support fish.